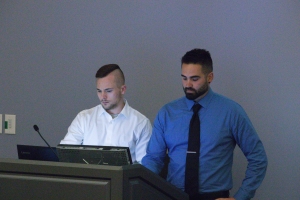 Fairfax, Virginia, May 24th, 2019 – This spring DeepBD Inc sponsored students from the Computer Science Department at the College of Charleston. The program took place during the student's capstone project and aimed to help solve real-world problems for high-tech firms in the region. The Department of Computer Science, Chair Sebastian van Delden commented that both students and the companies benefit enormously from the program.
DeepBD and Charleston
DeepBD's research and development team in Charleston worked with two teams of students to help develop and refine company software. The ability to work directly with DeepBD's Technology allowed students to learn skills for the workplace that involved advanced coding, product development, machine learning, and program analysis.
Mobile App Team
The first team of students was tasked with developing a mobile application for our latest product GovSurf and a separate mobile application for GovSurf subscribers. The following students from the College of Charleston participated in technology development efforts for the Mobile App Team; Stephen Green, Erik Helm, and Kyle Sheeley. The students used C#/.net and Xamarin to create a dedicated iOS and Android compatible application that provides the powerful GovSurf functionality to the end user's smartphone.  Also, team members were responsible for all aspects of the design from accessing the DeepBD servers, managing API calls, and creating an easy to use interface.  Furthermore, By the end of the semester, the students returned a fully-functional program that will serve as the foundation for future mobile app development within DeepBD.
Concept Search Team
Then, the second team of students from the College of Charleston was responsible for improving the speed and performance of GovSurf's existing concept search functionality. Students on the concept search team included; Erin Murphy and Nick Alonso. GovSurf's Concept Search goes above and beyond a simple keyword search, running complex machine learning algorithms over user-provided text or files to locate existing documents in the DeepBD databases that share similar concepts and themes.  Moreover, The students used a novel mix of several machine learning techniques to develop a powerful new model from our extensive database of government information.  New input is processed through this model, rapidly returning only the most relevant documents to the end user.
Project Presentation
The student's worked with the DeepBD team from January to April and presented their final project at "Harbor Walk After 5" on April 29th, 2019.  Stephen Green, a student on the Mobile App Team said "My time spent with DeepBD this semester gave me invaluable experience outside of the classroom. I was able to see how companies operate and how important technology and communication are to success. I worked with new software and got to see some of the decision making behind closed doors on why companies choose certain software over others. I learned a lot this semester working with deep bed and I'll be able to build off of this moving forward in my career."
In all, The DeepBD Team was honored to work with the student of College of Charleston and hopes to continue to work with students on a future project that will encourage technology development for the larger community of Charleston.